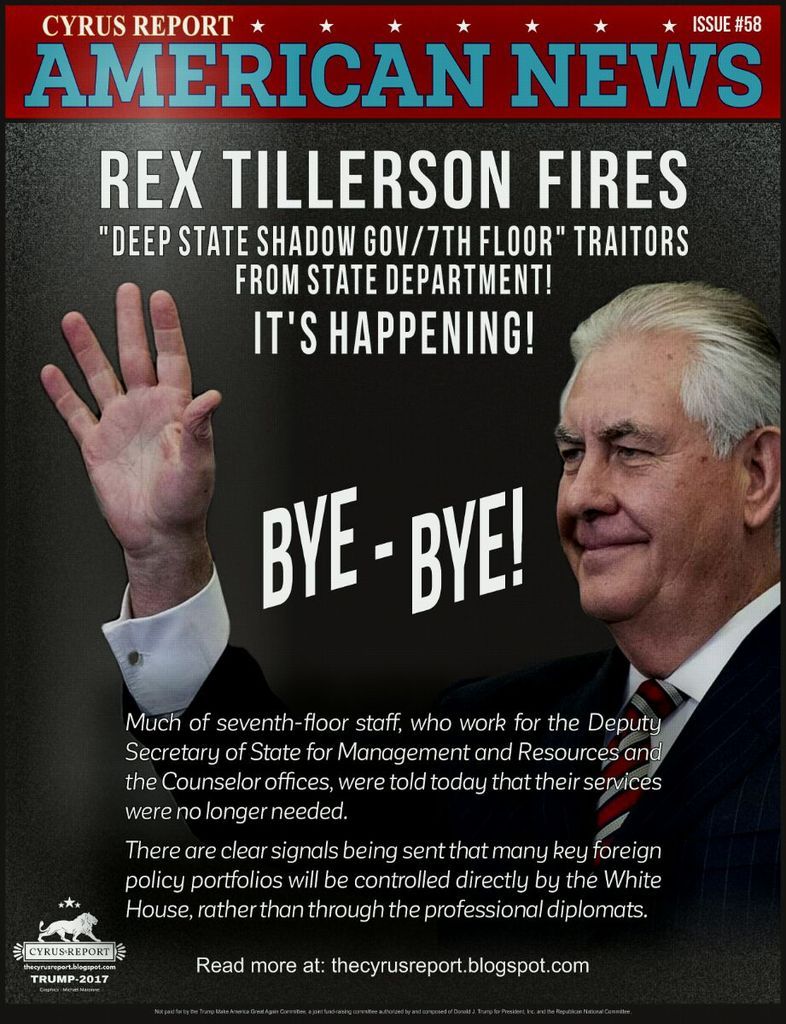 While Rex Tillerson is on his first overseas trip as Secretary of State, his aides laid off staff at the State Department on Thursday.
Much of seventh-floor staff, who work for the Deputy Secretary of State for Management and Resources and the Counselor offices, were told today that their services were no longer needed.
Please read:
https://thecyrusreport.blogspot.com/2017/02/we-name-names-these-are-5th-column.htm
l
There are clear signals being sent that many key foreign policy portfolios will be controlled directly by the White House, rather than through the TRAITOR diplomats at the State Department.
Now, why is the 7th Floor important...Remember, the "7th Floor" of the State Department was the 'SHADOW GOVERNMENT'. This from CNBC from Oct.17, 2016:
"A new trove of interview summaries and notes from the FBI's investigation into Hillary Clinton's emails lays out a series of allegations that could prove fodder for future attacks on the Democratic presidential nominee.
One revelation in the documents came from an interview with an unidentified person who suggested that Freedom of Information Act requests related to Clinton went through a group sometimes called "the Shadow Government."
There was a powerful group of very high-ranking STATE officials that some referred to as 'The 7th Floor Group' or 'The Shadow Government.' This group met every Wednesday afternoon to discuss the FOIA process, Congressional records, and everything CLINTON-related to FOIA/Congressional inquiries," the FBI's interview summary said."
http://www.cnbc.com/2016/10/17/fbi-releases-100-new-pages-on-clinton-email-probe.html
Is this the "Vault 7" that Wikileaks is referring to, only time will tell.
This was long overdue, and very good news. Hope the action was immediate, and they were relieved of their credentials and escorted to the door. I say we need more news about this, Let's purge the whole system of Life long federal employees. Let them all see what the past administrations have done to the US job market. Throwing them out to the public to find jobs, is torture enough, imagine looking at resume's of life long fed employees, when asked what did your job consist of?
ON TOP OF THIS, President Trump signed the Executive Order where government officials can't go join a lobbyist group for 5 years. SO MUCH WINNING!