.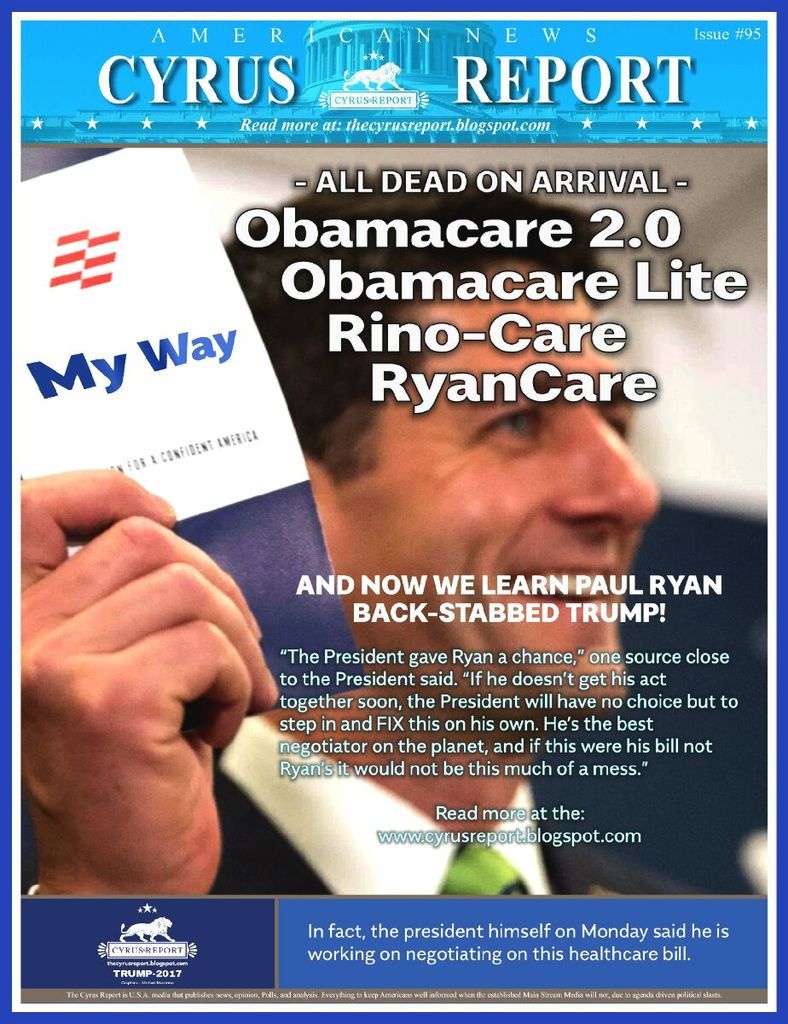 On a never-before-released private conference call with House Republican members, House Speaker Paul Ryan told his members in the U.S. House of Representatives he was abandoning then-GOP presidential nominee Donald Trump forever and would never defend him ever again. "I am not going to defend Donald Trump—not now, not in the future," Ryan says in the audio, obtained by Breitbart News and published for the first time ever.
Ryan has been unwilling to negotiate on the specifics of his bill, which has earned multiple negative monikers like "Obamacare 2.0," "Obamacare Lite," "RyanCare," and "RINO-CARE" from detractors. But President Trump and his true allies, despite what Ryan's allies inside the White House say publicly, have been much more willing to negotiate, according to House and Senate conservatives who have had direct conversations with the president.
"We have gotten a signal from the White House that the bill might be completely pulled and a more transparent and inclusive process could start as early as next week," one senior Republican Senate aide told Breitbart News on Friday. "House leadership misled the White House on how popular this bill would be with conservatives."
"That would be excellent news, and the best way to ensure we actually deliver on what we told the voters we would do," another senior congressional aide told Breitbart News when asked about the possibility Ryan's bill might be pulled altogether and a new renegotiated bill introduced afterwards. "The bill as is cannot pass and there is a growing chorus of Republican members in both houses growing impatient with the current unwillingness to make any changes to the current House bill."
"They'll start to fold soon if the conservative groups hold firm," one senior House GOP aide in an office whose member is against the bill, will not vote for it in its current form or without significant changes under any circumstances and is not in the House Freedom Caucus, told Breitbart News.
House GOP leadership offices—particularly Ryan's and House Majority Leader Kevin McCarthy's team—have not responded to requests for comment on the possibility the bill may be pulled altogether. But White House Press Secretary Sean Spicer, who is working internally as hard as he can to help Ryan on this front regardless of the impact on Trump along with a handful of other White House aides who came from the Republican National Committee and are not Trump loyalists, told Breitbart News that the idea the bill may be pulled is "false."
But in conversations Breitbart News has had with no fewer than 15 other White House aides, including many on the press team, it is clear that the President and the senior Trump administration team are not happy with this bill's lack of conservative support. The President and his team were assured by Ryan that conservatives would, in fact, be on board with it in the beginning, something that has turned out to not be accurate. Interestingly, much more so than Ryan and his House GOP leadership team, the White House is much more open to significant negotiation on the details in a healthcare bill—including the structure, vehicle, timeline and more. Several senior White House aides confirmed to Breitbart News that while the administration is publicly touting the bill as the party line, the President is much more willing to wheel and deal on this front than Ryan loyalists on his team would have anyone believe.
"The President gave Ryan a chance,"
one source close to the President said.
"If he doesn't get his act together soon, the President will have no choice but to step in and fix this on his own. He's the best negotiator on the planet, and if this were his bill not Ryan's it would not be this much of a mess."
In fact, the president himself on Monday said he is working on negotiating on this healthcare bill.
"We're negotiating with everybody," Trump said. "It's a big fat beautiful negotiation and hopefully we'll come up with something that's going to be really terrific."
What's more, the bill has virtually zero chance of ever passing the Senate should it get there. Sens. Paul, Mike Lee (R-UT), Tom Cotton (R-AR), Lindsey Graham (R-SC), James Lankford (R-OK), Dean Heller (R-NV), Susan Collins (R-ME), Ted Cruz (R-TX), and Ben Sasse (R-NE)—among other GOP senators—have all raised concerns about it. Paul, Lee and Cotton have been particularly vocal, while Graham has raised concerns with the process.
Cotton, particularly, warned his old House colleagues to not vote for Ryan's bill. "The bill probably can be fixed, but it's going to take a lot of carpentry on that framework," Cotton said, adding the key warning: "Do not walk the plank and vote for a bill that cannot pass the Senate and then have to face the consequences of that vote,"
"I'm not going to give into demands by members of Congress or the Senate if I don't believe it's in the interest of the American people and just walk away from the frigging table," Graham said last week, according to Politico.
Sasse, meanwhile, has privately raised concerns about the process and viability of the bill, according to a Senate GOP aide while a source close to Sasse has confirmed to Breitbart News he raised those concerns. Politico has reported on Heller's serious concerns with Ryan's bill, and Collins said she agrees with Paul—for different reasons—that the bill is dead on arrival in the Senate. Lankford, in a Monday morning radio interview, confirmed he also has serious concerns with the House bill and that he is introducing his own Obamacare replacement legislation in the Senate on Tuesday.
Cruz's office confirmed to Breitbart News he has had several meetings with White House officials, House members and Senate leadership officials making the case for an improved House bill. Cruz has also argued that Republicans can get around the Senate's parliamentarian on budget reconciliation because he says the Vice President—Mike Pence—"has the statutory and constitutional authority (as does the Senate majority) to rule to the contrary" of what the parliamentarian says.
Given the fact there are only 52 Republicans in the U.S. Senate, only three Republicans are needed to stop a piece of legislation that has no support from any Democrats. This bill is expected to get no support from Democrats, so the nine Republicans that Breitbart News can confirm have serious issues with the House bill—while not all necessarily 100 percent against it—are more than enough to stop this bill dead in its tracks if it ever reaches them.
That brings up the next question, which is whether Ryan's legislation has enough support to pass the U.S. House of Representatives. At this time, since the House Freedom Caucus is united against it—more than 40 members comprise the House Freedom Caucus—it appears the answer is no. Ryan can only afford to lose around 20 Republican votes, depending on absences and vacancies, since he is aiming to pass the bill with zero support from any Democrats.
And while Ryan is attempting to browbeat 20 or so of the House Freedom Caucus members into submission on this legislation using his affiliated outside groups to run ads against them in their districts—while not spending anything on targeting Democrats—House GOP sources in non-Freedom Caucus offices tell Breitbart News that there are as many as perhaps 70 House Republicans against this bill at this time, and that number is not getting any smaller as time goes by. So if Ryan is able to muscle it through the House in the next few weeks—sources close to the process expect a battle to come on the rule vote, which may happen next week or the week after—it will be on life support headed to a Senate that does not support it since conservatives are not warming up to it by any stretch.
Now, on top of all of this, this new audio file raises questions as to how loyal Ryan is to Trump politically—and is asking the new president to use precious political capital to push through legislation that seems arithmetically destined for congressional failure. That could doom or at least dampen other key elements of the Trump agenda, like tax reform, immigration reform, national security efforts, budgetary reforms, building up of the U.S. military, trade renegotiation and more.
Paul Ryan must be replaced as House Speaker Immediately!!
(Source: http://www.breitbart.com/big-government/2017/03/13/exclusive-audio-emerges-of-when-paul-ryan-abandoned-donald-trump-i-am-not-going-to-defend-donald-trump-not-now-not-in-the-future/ )