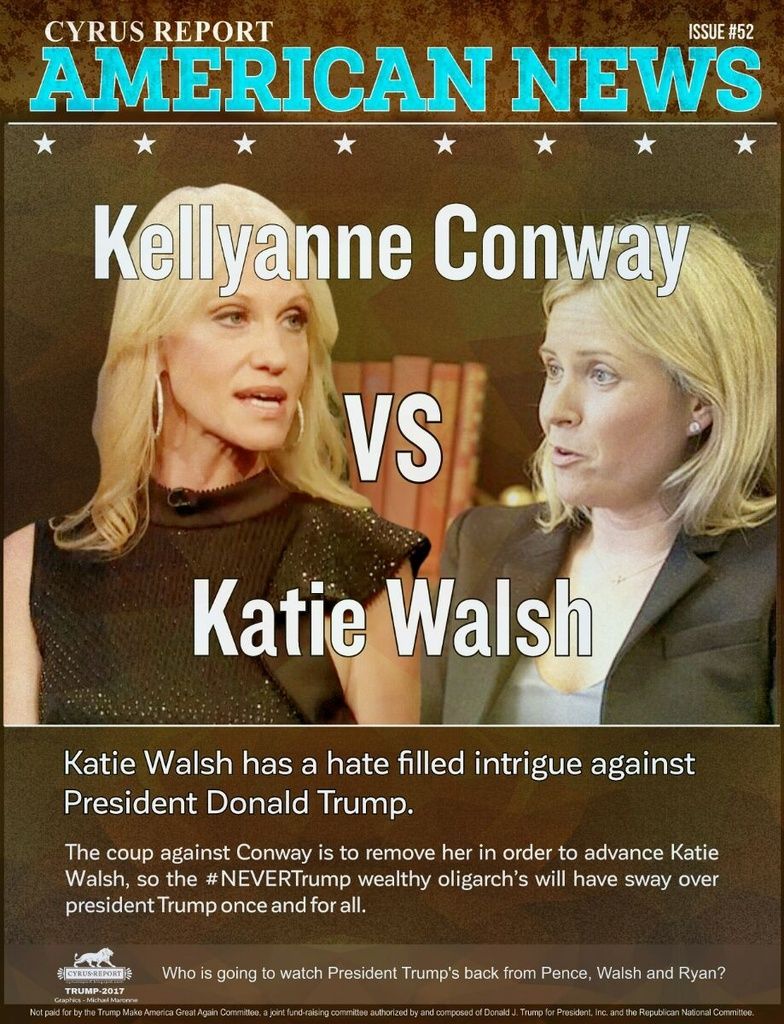 Soon you will be reading the saga of Katie Walsh and the hate filled intrigue against President Donald Trump, in how the Trump Transition inner circle, cut out the entire Christian supporters of President Trump for the Big Koch Brother mafia and their competitors in the Money whores, in using the Kuschners in the scheme to influence President Trump, and how it has begun to move on a coup of the inner circle.
They first moved on Steve Bannon and came out in full blitz on Kellyanne Conway, in the Ivanka Nordstrom Defense.
The coup against Conway is to remove her in order to advance Katie Walsh the current Deputy White House Chief of Staff, so the #NeverTrump oligarchs will have sway over Mr. Trump once and for all. Katue Walsh, whose Twitter handle is @KMWalsh_GOP , is a traitor to the Trump Administration, and is likely to be being looked into as one of the sources of leaks coming out of the White House.
Back on point...Kellyane Conway though in seeking to curry favor with "impeachment candidate" Mike Pence, has chosen to protect herself by hiring the Indiana Mafia to watch her back.
It appears that Kellyanne Conway has chosen to believe Mike Pence in the Indiana Mafia of Big Koch is going to protect her from the Katie Walsh oligarchs, who are managing this coup against her.
So Kellyanne Conway has made her choice in watching her own back, now who is going to watch President Trump's back from Pence, Walsh and Ryan.......and apparently Conway, as Ivanka and Kuschner have failed in this in being led around by Pence on Bush family carbon tax liberalism for the bankers to profit off of.
Pray for President Trump and God save President Donald Trump as this is shaping up as a Shakespearean tragedy.
(Source:
https://lamecherry.blogspot.com/2017/02/kellyanne-conway-vs-katie-walsh.html
)