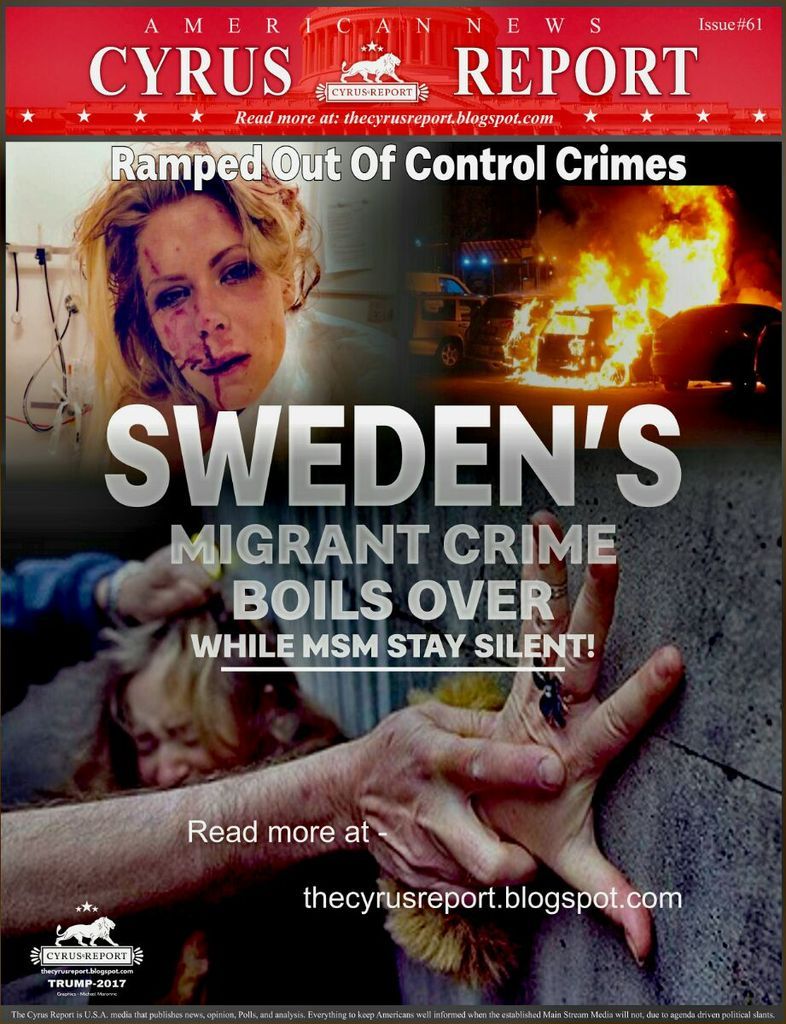 Sweden's Migrant Rape Epidemic Explained
How did peaceful Sweden go from being a quiet, low-crime country to being the country with the second-highest incidence of rape in the world? Why has Sweden experienced a 1,472% increase in the annual number of rapes?
Here is Ingrid Carlqvist of is Gatestone Institute to explain...
***
Sweden: Muslim migrants beat journalist investigating rape epidemic
Sweden has fallen victim to Muslim migrant horrors; ditto in Britain and Germany, but what sets Sweden apart is that it "has taken in more Islamic refugees than any other western country in the world," and has, not coincidentally, become the rape capital of the West. 80% of Swedish police are considering quitting over the Muslim migrant danger.
(Source: https://www.jihadwatch.org/2017/01/sweden-muslim-migrants-beat-journalist-investigating-rape-epidemic )
***
Swedish Police force pushed to breaking point by violence amid migrant influx
SWEDEN is on the brink of becoming a lawless state as the police force is losing the battle against unprecedented levels of crime and violence amid a growing migrant crisis.
(Source: http://www.express.co.uk/news/world/727574/Sweden-chaos-Police-pushed-breaking-point-unprecedented-violence-crime )
***
Sweden now rape capital amidst Muslim immigration
Ami Horowitz travels to Stockholm, Sweden to explore the cultural and religious clashes between liberal Swedes and the recent influx of refugee immigrants
(Source: http://video.foxnews.com/v/5248024459001/?#sp=show-clips )
***
SWEDISH RAPE CRISIS BOILS OVER AS MEDIA STAY SILENT: Almost zero coverage of brutal sexual attacks by Muslims
"Young male asylum seekers have turned Sweden's public swimming pools into ordeals of rape and sexual assault," Carlqvist writes. "More and more Swedes are now avoiding the pools all together."
"Swedish politicians seem convinced that some education on 'equality' will change the ways of men, who, since childhood, have been taught that it is the responsibility of women not to arouse them – and therefore the woman's fault if the man feels like raping her," observed Carlqvist in her latest article.
In 1975, before Sweden began experimenting with a multicultural immigration strategy, it was one of the safest countries in the world.
(Source: http://www.wnd.com/2016/03/swedish-rape-crisis-boils-over-as-media-stays-silent/ )