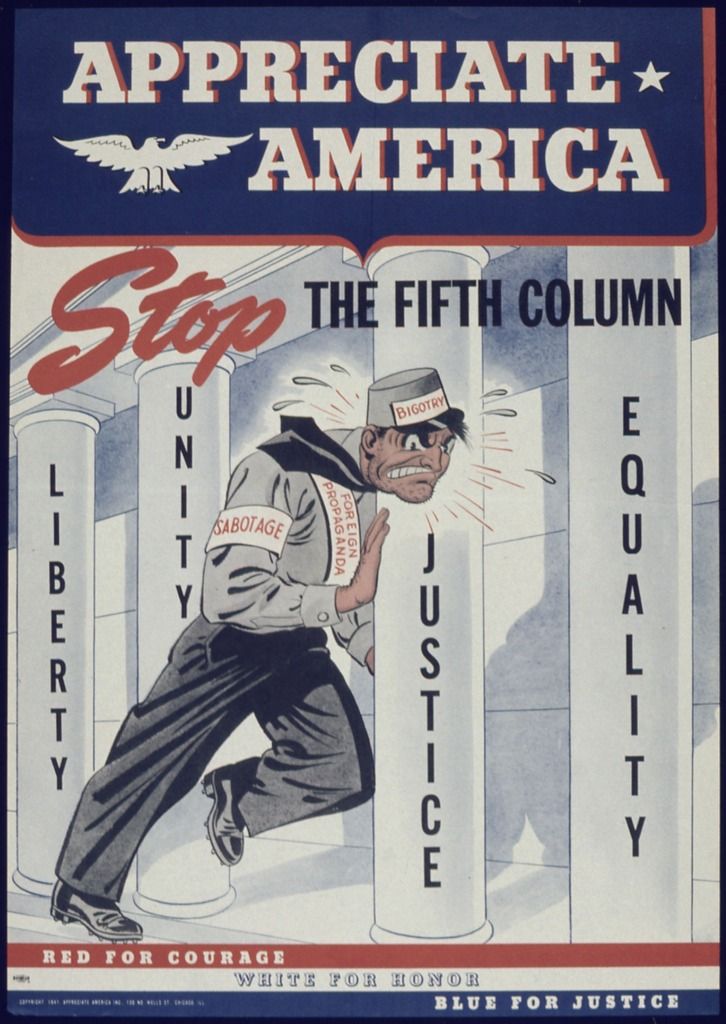 WE NAME NAMES! These are the 5th Column, the neocons who brought down Nixon, Ford, got Reagan shot and put the Birther Obama in the White House who now has the American genocide taking place with the Invasion of the Islamic Savages into the USA
Their group has said, "Mr. Trump will not be our puppet, so we are against him."
The 5th Column is any group of people who undermine a larger group—such as a nation or a besieged city—from within, usually in favor of an enemy group or nation. The activities of a 5th column can be overt or clandestine. Forces gathered in secret can mobilize openly to assist an external attack. This term is also extended to organized actions by military personnel. Clandestine 5th column activities can involve acts of sabotage, disinformation, or espionage executed within defense lines by secret sympathizers with an external force.
(More:
http://lamecherry.blogspot.com/2017/02/the-obama-5th-column-engaged-in-treason.html
)
THESE are the men:
Donald B. Ayer
Former Deputy Attorney General
John B. BellingerIII
Former Legal Adviser to the Department of State; former Legal Adviser to the National Security Council, The White House StatementofFormerNationalSecurityOfficials.docx
Robert Blackwill
Former Deputy National Security, Advisor for Strategic Planning, The White House
Michael Chertoff
Former Secretary of Homeland Security; former Assistant Attorney: General for the Criminal Division, Department of Justice
Eliot A. Cohen
Former Counselor of the Department of State
Eric Edelman
Former Under Secretary of Defense for Policy; former National Security: Advisor to the Vice President, The White House
Gary Edson
Former Deputy National Security Advisor, The White House
Richard Falkenrath
Former Deputy Homeland Security Advisor, The White House
Peter Feaver
Former Senior Director for Strategic Planning, National Security Council, The White House
Richard Fontaine
Former Associate Director for Near East Affairs, National Security Council, The White House
Jendayi Frazer
Former Special Assistant to the President and Senior Director for African Affairs; former Assistant Secretary of State for African Affairs
Aaron Friedberg
Former Deputy National Security Advisor to the Vice President, The White House
David Gordon
Former Director of Policy Planning, Department of State
Michael Green
Former Special Assistant to the President and Senior Director for Asia, National Security Council, The White House
Brian Gunderson
Former Chief of Staff, Department ofState
Paul Haenle
Former Director for China and Taiwan, National Security Council, The
White House
Michael Hayden
Former Director, Central Intelligence Agency; former Director, National Security Agency
Carla A. Hills
Former U.S. Trade Representative
John Hillen
Former Assistant Secretary of State for Political-Military Affairs
William Inboden
Former Senior Director for Strategic Planning, National Security Council, The White House
Reuben Jeffery III
Former Under Secretary of State for Economic Energy and Agricultural Affairs; former Special Assistant to the President for International Economic Affairs, National Security Council, The White House
James Jeffrey
Former Deputy National Security Advisor, The White House
Ted Kassinger
Former Deputy Secretary of Commerce
David Kramer
Former Assistant Secretary of State for Democracy,Human Rights, and Labor
James Langdon
Former Chairman, President's Foreign Intelligence Advisory Board, The White House
Peter Lichtenbaum
Former Assistant Secretary of Commerce for Export Administration
Mary Beth Long
Former Assistant Secretary of Defense for International Security Affairs
Clay Lowery
Former Assistant Secretary of the Treasury for International Affairs; former Director for International Finance, National Security Council, The White House
Robert McCallum
Former Associate Attorney General; former Ambassador to Australia
Richard Miles
Former Director for North America, National Security Council, The White House
Andrew Natsios
Former Administrator, U.S. Agency for International Development
John Negroponte
Former Director of National Intelligence; former Deputy Secretary of State; former Deputy National Security Advisor
Meghan O'Sullivan
Former Deputy National Security Advisorfor Iraq and Afghanistan
Dan Price
Former Deputy National Security Advisor
Tom Ridge
Former Secretary of Homeland Security; former Assistant to the President for Homeland Security, The White House; former Governor of
Pennsylvania
Nicholas Rostow
Former Legal Adviser to the National Security Council, The White House
Kori Schake
Former Director for Defense Strategy, National Security Council, The White House
Kristen Silverberg
Former Assistant Secretary of State for International Organizations
Stephen Slick
Former Special Assistant to the President and Senior Director for Intelligence Programs, National Security Council, The White House
Shirin R. Tahir-Kheli
Former Special Assistant to the President and Senior Director for Democracy, Human Rights and International Operations, National Security Council, The White House; former Ambassador and Senior Advisor for Women's Empowerment, Department of State
William H. Taft IV
Former Deputy Secretary of Defense; former Ambassador to NATO
Larry D. Thompson
Former Deputy Attorney General
William Tobey
Former Deputy Administrator, National Nuclear Security Administration, Department of Energy; former Director for Counter-Proliferation Strategy, National Security Council, The White House
John Veroneau
Former Deputy U.S. Trade Representative
Kenneth Wainstein
Former Assistant to the President for Homeland Security and Counterterrorism, The White House; former Assistant Attorney General for National Security, Department of Justice
Matthew Waxman
Former Deputy Assistant Secretary of Defense; former Director for Contingency Planning and International Justice, National Security
Council, The White House
Dov Zakheim
Former Under Secretary of Defense
Roger Zakheim
Former Deputy Assistant Secretary of Defense
Philip Zelikow
Former Counselor of the Department of State
Robert Zoellick
Former U.S. Trade Representative; former Deputy Secretary of State